Lineup Prep: Week 3
Wed Sep 22 10:38am ET
By JEFF PAUR
Sr Fantasy Writer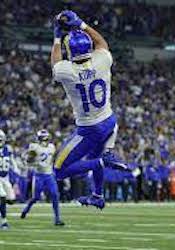 Kupp will keep it going this week
Here is my big week of advice for this week. Remember, we are just two weeks into the season. It is a long season and things can change in a hurry. Don't panic if you are 0-2. And if you are 2-0, don't get too cocky. Things can turn good or bad in a hurry. Just be patient. Keep plugging along and doing your homework to put the best team out there.
Now for my random thoughts for the week. . . . .
The rookie quarterbacks really struggled last week. We saw some terrible performances, including a four-interception performance from Zach Wilson. This is to be expected, though. I know the trend in recent years has seen some big seasons from rookie quarterbacks, but it is a tough learning curve to come right into the NFL and produce big. And this especially remains true for players on bad teams. Remember, the Jags and Jets are not good. It isn't easy for even a very talented player to produce on a bad team. Justin Herbert had a monster season last year, but he was in a much better situation in Los Angeles. It could be a long season for some of these rookie signal callers.
Derek Carr is really underrated. He is currently sixth overall in fantasy quarterback scoring and was 13th overall in scoring last year. And he is doing this without a lot of top weapons offensively. He knows the offense really well and seems to make the right reads often. Carr just makes plays. He is not going to keep his current crazy pace, but expect plenty of big games along the way, making him a low-end No. 1 fantasy quarterback. Carr posted his big numbers to start the year against the Ravens and Steelers - two really good defenses. Don't sleep on Carr anymore.
Brandin Cooks is going to have a really big season. The Texans are going to throw the ball a lot, playing from behind at times. And Cooks is so far ahead of the rest of the options on the roster that his weekly targets are going to be really high. He has already been targeted 21 times in two games. He is going to bring great value to all the fantasy teams that were able to nab him as a WR3 come draft day.
The Cowboys split carries last week, seeing both Tony Pollard and Ezekiel Elliott post good numbers. Could this situation turn into a Browns backfield, seeing both backs get a lot of weekly chances? I think it could happen. But either way, I would expect Pollard to be more involved going forward. He might not split work with Elliott every week, but he deserves more chances. Pollard is a playmaker and good fit for the offense. He might end up being a back to use a flex play going forward.
The running back position is kind of messy to start the year, so guys like James White have a little more value. He doesn't get many carries, but White has six receptions each of his first two games. As long as he keeps getting the passing game work, White can be a decent No. 2 back or flex option. He'll get double-digit fantasy points per week. White currently ranks 13th overall in fantasy running back scoring. It doesn't always have to be the flashy back that is the big fantasy producer. Backs that come off the bench and get work in the passing game have good value, too (hello Nyheim Hines and J.D. McKissic).
So Jared Goff has been a surprise. He has played better than I thought he would in an offense that lacks some weapons in the passing game. He is making the most of his talent, though, and currently sits seventh overall in fantasy quarterback scoring. I don't think he'll be top-10 all season but I do think he is going to continue to have some big games. The Lions are going to be playing from behind a lot, giving Goff plenty of chances to play catch up.
News and Notes: The 49ers signed running back Jacques Patrick off the Cincinnati Bengals practice squad. Patrick gives the 49ers some much needed depth at a position that is ravaged by injuries right now.
HOT PLAYS
Daniel Jones, QB, Giants. Jones is off to a great start to his season, looking to finally take his game to a new level. He has 26-plus fantasy points each of his two games. He also is showing his dual threat ability, having 122-rushing yards and two rushing scores. Jones did this against two really good defenses, playing the Broncos and Washington. Jones gets a favorable matchup this week, so things are looking good for Jones once again. He plays the Falcons, a team that has allowed the most fantasy points to quarterbacks their first two games.
Cooper Kupp, WR, Rams. Kupp is off to a fantastic start to his season, having a great rapport with new quarterback Matthew Stafford. Kupp has 100-yard games each of his firs two and been targeted a whooping 21 times. He also has scores each of those games. Kupp should be involved in a shootout this week with the Bucs, a tBucJust eam that has posted some big numbers this years. Plus, Tampa has struggled some against the pass, allowing the second most fantasy points to receivers. Kupp is a top-five fantasy option this week.
D.K. Metcalf, WR, Seahawks. Metcalf is off to a so-so start to the season, watching teammate Tyler Lockett post huge numbers for the Seahawks. But the good news is Metcalf was targeted 11 time last week and has 10 receptions in two games. It is just a matter of time before Metcalf posts one of his huge games. We think that happens this week against the Vikings. Minnesota allows the third most fantasy points to receivers and rank 26th against the pass.
T.J. Hockenson, TE, Lions. Hockenson has moved into must-start territory. He has a legit chance to lead all fantasy tight ends in scoring - even with Travis Kelce out there. Hockenson is piling up the points to start the year. He has eight receptions each of his first two games and scores each of those games. Hockenson has 20-plus fantasy points each of his two games. He plays the Ravens this week, a team that has allowed the most fantasy points to tight ends. Don't be scared of the matchup.
Ty'Son Williams, RB, Ravens. Williams is the starter for the Ravens because of injury and producing well in that role. He had 13 carries for 77 yards last week and two receptions for 16 yards, giving him 93 total yards. He has 11-plus fantasy points each of his first two games. Williams is the back to use for the Ravens. He has a prime matchup for his best game of his young career this week. Williams gets the Lions, a team that allows the second most fantasy points to running backs.
COLD PLAYS
Jameis Winston, QB, Saints. Winston was a disaster last week, proving he is not a surefire fantasy option by any means. Winston failed to have a touchdown pass in Week 2 after having five passing touchdowns in the opener. He has thrown for just 259 yards in two games. Winston is a scary fantasy play right now. He needs to show more consistency and can only be used in the right matchup. And a matchup this week against the Patriots is not a good one for Winston. The Patriots just made rookie Zach Wilson look silly last week. Winston could have similar struggles, so just stay away.
Amari Cooper, WR, Cowboys. Cooper is a little bit of a scary play this week. He is battling a rib injury but also gets a tough matchup with the Eagles. In two games against Philadelphia last week, Cooper had five receptions for 126 yards on 11 targets. He also did not score a touchdown against the Eagles. It is tough to bench Cooper but if you have viable options on the bench, you might want to consider them in Week 3.
Phillip Lindsay, RB, Texans. Lindsay has found the end zone each of his first two games. He has been a bright spot in the Texans backfield. Unfortunately, despite the scores, Lindsay still hasn't topped double-digit fantasy points in a game this year. That is a concern. He just isn't producing enough with his touches to be worth using just yet. And a matchup this week against the Panthers is not a good one for Lindsay. Carolina has not allowed double-digit fantasy points to running backs in any game this year. The Panthers allow the second fewest fantasy points to running backs.
Henry Ruggs, WR, Raiders. Ruggs had a huge game last week, hitting the 100-yard mark for the first time this season. He showed his high ceiling as the top big-play threat in this offense. Ruggs is not a sure thing, though. He can be up and down. Remember, he did not top 50 yards in Week 1. He gets a tough matchup this week against the Dolphins, a team with two of the best cornerbacks in the game. Miami allows the ninth fewest fantasy points to receivers. Ruggs is probably best left on benches this week.
Darrell Henderson, RB, Rams. Henderson has found the end zone each of his first two games. He has played pretty well for fantasy teams. His overall numbers aren't great, though. He has not topped 70-rushing years in a game just yet and has 29 carries on the season. Things won't get easier for him this week. Henderson plays the Bucs, a team that allowed just 57.5-rushing yards per game. Henderson is likely to be bottled up in this game and produced little. Plus, it would not surprise to see Sony Michel get a few more carries after showing well late in the game last week.
SLEEPERS
Cordarrelle Patterson, RB, Falcons. Patterson is starting to emerge in the Falcons offense. He has seven carries each of his first two games and totaled five receptions last week. Mike Davis isn't exactly running away with the starter's job, so Patterson should continue to get double-digit touches per week. He might post his second straight big game this week, playing the Giants. New York allows the ninth most fantasy points to running backs. Patterson has some flex appeal in Week 3.
Zach Pascal, WR, Colts. Pascal has found the end zone two straight weeks to start his season. He doesn't have 50 yards in a game, but been targeted 11 times and has nine receptions. He is getting weekly work as a starter for the Colts. Expect more of the same this week against the Titans. Tennessee has struggled defensively, allowing the most fantasy points to receivers. The Titans allow 300-passing yards per game.
Dan Arnold, TE, Panthers. Arnold is starting for the Panthers high-powered offense and showed his potential last week, catching three passes for 55 yards. He has been targeted seven times and has five receptions. He is not a sure thing by any means, but has a chance to have a big week every once in a while. And a big game could come this week against the Texans, a team that has allowed the fifth most fantasy points to tight ends.
Teddy Bridgewater, QB, Broncos. Bridgewater has been fantastic to start the season as the starter for the Broncos. He has 23-plus fantasy points each of his first two games. He has four touchdowns without a turnover and a 300-yard game. Bridgewater can produce some big games in this talented offense. He should keep it going this week against the Jets, a team that is middle of the pack against the pass.
Emmanuel Sanders, WR, Bills. Sanders has not produced great just yet but he is getting work, having 14 targets his first two games. He plays in a high-powered passing game that is yet to reach their potential just yet. There were signs of life last week, though, which is encouraging. And it seems like Sanders is close to getting on the same page as Josh Allen. It would not surprise to see Sanders post a big game this week against Washington, a team that has struggled to stop the pass to start the year. Washington allows 281-passing yards per game and the sixth most fantasy points to receivers.
High/Low Scoring Games
Each week we will take a look at some of the high and low scoring games for the coming week. In high scoring affairs, get your marginal players on those teams in your lineup to take advantage of the possible points barrage. And in the low scoring games, keep those marginal players on the bench and make sure to have your defenses involved in those contests.
High Scoring Games: Chargers/Chiefs, Cardinals/Jaguars, Bucs/Rams, Seahawks/Vikings, Eagles/Cowboys.
Low Scoring Games: Chicago/Cleveland, Jets/Broncos,.
Jeff Paur is a two-time finalist for FSWA Fantasy Football Writer of the Year and won the FSWA award for Best Fantasy Football Article on the Web in 2011. He also was the most accurate expert in 2012, winning the FSTA Fantasy Football Accuracy Award. If you have any questions for Jeff, email him at [email protected] Follow Jeff on Twitter @jeffpaur.