Waivering: Week 3
Tue Sep 21 9:03am ET
By JEFF PAUR
Sr Fantasy Writer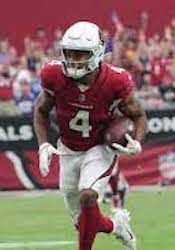 Moore is off to great start
Last week on the waiver wire was a good example of proceeding with caution. I thought going big on Eli Mitchell wasn't a terrible strategy, getting a chance to start in a run-heavy offense. But I also thought he carried risk because you just knew little about him and the 49ers like to rotate backs. Well, many fantasy owners went crazy in trying to acquire Mitchell, blowing nearly their entire FAAB budget in Week 2. That strategy proved to be a poor one right now with Mitchell doing little with his chances last week. He also got banged up in the game, which is another concern. Now this could have turned out different but this just goes to show you that nothing is ever certain on the waiver wire. It is a tough area to navigate. Just learn from it and make good decisions going forward.
Now for the top options out there this week. . . . .
QUARTERBACK
Derek Carr, Raiders. Carr is off to a great start to his season, beating both the Ravens and Steelers. He has 28-plus fantasy points each of his first two games. Carr also four touchdowns and more than 800-passing yards. It would not surprise to see Carr continue to play at a high level for a team that looks to be one of the best in the AFC. Carr remains available in 36 percent of leagues.
Teddy Bridgewater, Broncos. Bridgewater continues to prove the Broncos made the right decision by naming him the starter. He has four touchdowns without a turnover in two games and had one 300-yard showing. He is being more than a game manager, producing some big games. He is not an every-week starter, but a good spot play for fantasy teams on a team with a lot of offensive weapons.
Sam Darnold, Panthers. Darnold showed his first game wasn't a fluke, playing just as well in Week 2 against a good Saints defense. Darnold has 22-plus fantasy points each of his first two games and multiple touchdowns each of those games. Darnold seems to have taken his game to a new level with his new teams. He might be a low-end No. 1 quarterback the rest of the way. Darnold remains available in 62 percent of leagues.
Daniel Jones, Giants. Maybe the light has finally turned on for Jones, who has produced two really good games to start this season. He has 26-plus fantasy points each of his first two games against the Broncos and Washington, two good defensive teams. Remember, Jones is a dual threat, which helps his floor on a weekly basis. Jones is available in 65 percent of leagues and could help your team the rest of the way.
RUNNING BACK
Kerryon Johnson, 49ers. The 49ers had three running backs get injured Sunday. All three are up in the air to play this week, leaving the 49ers super thin at running back. Johnson was signed to the practice squad last week and seems likely to be promoted to the big squad for this week's game. He could even start for the 49ers and be a good short-term play for fantasy teams. The 49ers have one of the best run offenses in football, so Johnson might be worth a look for running back needy teams.
Cordarrelle Patterson, Falcons. Patterson has seven carries each of the first two games and seven total receptions. He was more involved in the passing game last week, catching five passes. With Mike Davis not exactly running away with the starter's job, Patterson could be setup for more work going forward, especially if e keeps making plays in the passing game. Patterson is a good speculative add for fantasy teams.
RECEIVER

K.J. Osborn, Vikings. Osborn continued his great start to the season last week, showing he could be a factor on a weekly basis as the No. 3 receiver for the Vikings. He has been targeted 15 times in two games and has 12 receptions. Osborn is making big plays and is capable of the big game. He is still out there in a lot of leagues, being available in 91 percent.
Jalen Reagor, Eagles. Reagor caught just two passes for five yards last week, but was targeted five times. He has 11 targets in two games and is getting plenty of weekly looks as the No. 2 receiver for the Eagles. Now might be a good time to buy-low on Reagor, who seems primed for some big games in the coming weeks against the Cowboys and Chiefs.
Rondale Moore, Cardinals. Moore led the Cardinals in receiving last week, catching seven passes for 114 yards and a touchdown. That is pretty impressive, considering the receiver room in Arizona. Moore has 68-plus yards each of his first two games. Moore has a chance to lead all rookies in receiving this year. He is still out there in 51 percent of leagues.
Henry Ruggs, Raiders. Ruggs had a huge game last week, showing his big-game potential in a suddenly explosive Raiders passing game. He had 22.5 fantasy points last week. Ruggs has been targeted 12 times in two games, getting his chances to make big plays for Las Vegas. Ruggs isn't available in a lot of leagues, but out there in 26 percent.
Quentez Cephus, Lions. Cephus has touchdowns each of his first two games this year. He has been targeted 13 times and has seven receptions. He is the No. 1 receiver in this offense right now and has some value to fantasy teams as a spot play, especially if you consider the Lions could be playing from behind often. They might need to air it out often, giving Cephus consistent weekly work.
TIGHT END
Maxx Williams, Cardinals. Williams didn't catch a pass in Week 1 but had seven receptions for 94 yards in Week 2. The Cardinals don't have a history of giving the tight end a ton of work, but Williams might be a player to take a chance on if you are looking for a new tight end. He has some potential in an explosive offense.
Jack Doyle, Colts. Doyle looks to be a favorite target of Carson Wentz. He has eight receptions for the season, including five in Week 2. Remember, he had a big season a few weeks back, so he is capable of helping fantasy teams. It would not surprise to see him continue to get consistent weekly targets.
Jeff Paur is a two-time finalist for FSWA Fantasy Football Writer of the Year and won the FSWA award for Best Fantasy Football Article on the Web in 2011. He also was the most accurate expert in 2012, winning the FSTA Fantasy Football Accuracy Award. If you have any questions for Jeff, email him at [email protected] Follow Jeff on Twitter @jeffpaur.