Lineup Prep: Week 6
Wed Oct 13 10:22am ET
By JEFF PAUR
Sr Fantasy Writer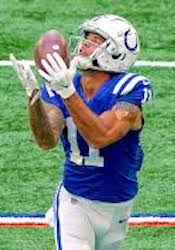 Pittman is quickly gaining value
The big fantasy reminder this week is the byes start. They are never fun to deal with but part of the game. Hopefully, you somewhat planned for this day and can roll out some good lineups despite some key players being off. Just reminder that every team has to deal with this. It isn't just your team. With that said, here are my random thoughts for the week. . . . .
If you haven't figured it out, Justin Herbert is really, really, really good. I was confused by the many preseason fantasy takes for a regression of Herbert this year. I thought maybe I was watching different tape when looking at Herbert. But the start to this season proved to me that I wasn't. This guy is special. Herbert has a chance to be one of the all-time greats. He just sees the field so well and makes so many special throws. He is going to be a fantasy great for years to come.
I hear a lot of people say I just don't know the Bucs receiver that is going to have a big game on a weekly basis. But here is a not so hot take, just start all of them. This passing game is unreal. Sure, one guy might be a little down a few times throughout the year, but for the most part, these guys are going to all produce. The numbers don't like. Chris Godwin is 13th overall in fantasy receiver scoring. Mike Evans comes in at 11 and Antonio Brown is 26th despite missing a game because of injury. Just start them and be happy with this offense. Don't overthink things.
I can't remember a week with so many high scoring fantasy games. The Week 5 scores were just off the charts. There were more 200-plus point games than I have ever seen. Hopefully, you had some of those teams racking up the points. I think this might be a bit of a trend going forward, too. Teams just don't seem to have an answer for many of these top offenses in the league. We'll see.
Matt Ryan had a bad first game but has been his usual good self after that. He has done well in the Falcons new offense and is quickly forming a rapport with rookie tight end Kyle Pitts. Ryan has 20-plus fantasy points four straight games. He might not be the flashy fantasy quarterback starter, but it is hard to ignore his production. He gets the weekly chances, too, having at least 35 pass attempts every game. It amazes me that he is unowned in 30 percent of leagues on our site.
So apparently the league has the book on how to slow Patrick Mahomes. It is to stop blitzing and put more in coverage. That is what the Bills did last week, blitzing just once. I'm not convinced this game plan is going to work. The Chiefs will adjust as will Mahomes. Kansas City will find ways to get this offense humming again if teams refuse to blitz him. And fantasy owners shouldn't worry too much about this talk. In his "down" game last week against the Bills, Mahomes scored 25.7 fantasy points. Mahomes will be just fine.
I don't think the start of the season for Knox is a fluke. I think he is a legit No. 1 fantasy tight end. He plays in one of the best offenses in football and is maybe the top red-zone passing target on the team. He has touchdowns four straight games and 20-plus points two straight. Knox is a guy that wasn't even drafted in fantasy leagues. If you were fortunate enough to get him, good work. I'm not sure he is remains a top-five tight end, but I think he can be top 10 for sure.
I kept telling owners to be patient with Robert Woods. I know his start was frustrating but it seemed just a matter of time before he got on the same page with Matthew Stafford and was a bigger part of the offense. Well, he broke out in a huge way in Week 5, catching 12 passes for 150 yards on 14 targets. Even with his slow start, Woods has double-digit fantasy points four of five games. It was probably overblown just a little about his start to the year. Woods will be just fine for fantasy owners. This guy has been an elite fantasy receiver the last several seasons for a reason.
Saquon Barkley just can't catch a break. Just when you thought he was ready to take off, he gets hit with another injury. He hurt his ankle and is going to miss a few weeks of action. Barkley had 20-plus fantasy points two straight games before suffering the injury in Week 5. For me, I think trying to get Barkley for a cheap price from a disgruntled owner isn't a bad move. This injury isn't season ending and we all saw his potential those couple weeks this year when he started to get rolling. Just something to think about.
News and Notes: Raiders head coach Jon Gruden officially resigned from his position Monday. Gruden resigned after emails came to light of offensive language on several subjects. Rich Bisaccia takes over as the interim head coach for the Raiders. Bisaccia has been the special teams coordinator for the team. . . . .The Steelers signed veteran receiver Anthony Miller to their practice squad on Tuesday. He gives the team some depth after a season-ending injury to JuJu Smith-Schuster. . . . .The Broncos signed receiver John Brown to their practice squad on Tuesday. Brown adds some more depth at receiver after the Broncos lost another receiver to injury (KJ Hamler). . . . .New Orleans signed kicker Brian Johnson off the Bears practice squad on Tuesday. He takes over the kicking duties for the Saints because of Cody Parkey getting injured last week.
HOT PLAYS
Jalen Hurts, QB, Eagles. Hurts didn't throw for 200 yards last week or have a passing touchdown but still managed to score 25.9 fantasy points. He ran for two scores and rushed for 30 yards. His ability to make plays with his feet gives him a very high weekly floor. Hurts is getting it done on a weekly basis for fantasy teams, having at least 23 fantasy points every game. He should keep it rolling this week against the Bucs. The Eagles could be playing from behind, giving Hurts more chances to air it out. And if that happens, look for plenty of success against the worst pass defense in football. Plus, Tampa allows the fifth most fantasy points to quarterbacks.
Najee Harris, RB, Steelers. Harris had his first 100-yard rushing game of his career last week. He has been great for his fantasy owners, especially in recent weeks. Harris has three straight games with 21-plus fantasy points. He is getting a ton of weekly touches and producing. He should be a big factor again this week against the Seahawks. Seattle allows the third most fantasy points to running backs and are 31st against the run.
Michael Pittman, WR, Colts. Pittman has emerged as the top target for the Colts and has produced very consistent numbers. He has at least six receptions four straight games. He also scored his first touchdown of the season last week, having a season high 20.9 fantasy points. He can keep it rolling this week against the Texans, a team allowing 257-passing yards per game. Pittman is a top No. 2 fantasy receiver.
Darrell Henderson, RB, Rams. Henderson has missed a game because of injury this year but is still 16th overall in fantasy running back scoring. He has been very good of late, having 80-plus rushing yards two straight games. He also has touchdowns three of four games in the Rams explosive offense. Henderson is becoming a must start for his fantasy owners. He might have his best game of the season this week against the Giants, a team that allows the fifth most fantasy points to running backs.
Emmanuel Sanders, WR, Bills. Sanders might not be the same player as he was earlier in his career but is still getting it done for the Bills. He has been doing his job on a weekly basis and making plays in the red zone. He has multiple touchdowns two of three games. He also has been targeted at least five times every game, giving him a pretty high weekly floor. Sanders seems to have a good chance to find the end zone again this week against the Titans. Tennessee has allowed nine passing touchdowns and give up the most fantasy points to receivers.
COLD PLAYS
Alex Collins, RB, Seahawks. Collins started last week for an injured Chris Carson and 15 times for 47 yards. He has 25 carries for just 91 yards his last two games. Collins is getting the work but doing little with it. Look for more of the same this week against the Steelers. Pittsburgh allows the fourth fewest fantasy points to running backs and rank ninth overall against the run. So even if Carson is out again, leave Collins on your bench unless you are desperate for options.
David Njoku, TE, Browns. Njoku was a big surprise last week, catching seven passes for 149 yards. He had fewer than 20 yards three straight games before last week. He has been erratic throughout the season. Remember, he is the backup tight end to Austin Hooper. Njoku is more of a matchup play - even after last week. And a matchup this week against the Cardinals is not a good one for Njoku. The Cardinals have not allowed a tight end to score double-digit fantasy points all season and allow the second fewest fantasy points to tight ends.
A.J. Brown, WR, Titans. Brown has been a real disappointment this season. He has not had more than 50 yards in a game and found the end zone just once in four games. He has yet to have double-digit targets in a game. Brown also has been slowed by a hamstring injury, which doesn't help matters for him. We think it will be more of the same this week against the Bills. He likely gets shutdown corner Tre'Davious White in coverage. And the Bills allows the second fewest fantasy points to receivers this season.
Derek Carr, QB, Raiders. Carr has cooled since his hot start. He has fewer than 20 fantasy points two straight games. He also has fewer than 210-passing yards each of his last two games. He had 380-plus passing yards each of his first three games, so his production has really slipped. Carr might do more of the same this week against the Broncos, especially with all the turmoil going on in Las Vegas. Denver allows the second fewest fantasy points to quarterbacks for the season. Go with other options in Week 6.
Both Eagles running backs (Miles Sanders and Kenneth Gainwell). Many thought Gainwell might emerge and get more playing time after a good showing in Week 4, but that wasn't the case. Sanders played 75 percent of the snaps in Week 5 while Gainwell was on the field just 24 percent of the time. Sanders had 16 touches for just 51 yards in the game. His season high in fantasy points is just 17.3 and he has fewer than double-digit fantasy points three of five games. Gainwell has the exact same line, having two games with doubled-digit points and three with fewer. We just wouldn't bother with either of these backs right now, especially this week against the Bucs. Tampa clamps down on the run, allowing just 45.8-rushing yards per game.
SLEEPERS
Kendrick Bourne, WR, Patriots. Bourne has double-digit fantasy points two fo three games. He has 14 receptions those three games. He has been much more involved in the offense after a slow start to the year. He might get more looks again this week in a game the Patriots might need to put up some points. New England plays a great Cowboys offense. Dallas also allows the sixth most fantasy points to receivers and rank 31st against the pass. Bourne has a high ceiling in this one.
Taylor Heinicke, QB, Washington. Heinicke is 12th overall in fantasy quarterback scoring his last three games. He has 24-plus fantasy points three of four games. He has done a very good job as the starter for Washington and might keep the job even when Ryan Fitzpatrick is healthy and ready to play again. Heinicke has become a legit streaming option for fantasy teams. He has a lot of weapons to work with offensively and can also make some plays with his legs. Heinicke is setup for another good showing in Week 6 against the Chiefs. Washington might need to score a lot of points to keep up with the Chiefs' offense, giving Heinicke a lot of chances. Plus, the Chiefs allow the second most fantasy points to quarterbacks and rank 28th overall against the pass.
Quez Watkins, WR, Eagles. Watkins is getting some weekly chances in the Eagles offense as the No. 3 receiver. He has multiple receptions every game and at least 33 yards four straight. He has been targeted 10 times his last two games and played a season high 82 percent of the snaps last week, playing more than No. 2 receiver Jalen Reagor (70 percent). If Watkins is on the field a lot again this week, he could do some damage against a bad Bucs secondary. Tampa allows the second most fantasy points to receivers. Watkins could be a sneaky play for teams looking for bye week or injury fill-ins for Week 6.
Tyler Higbee, TE, Rams. Higbeen does not have more than 40 yards since Week 1 but does have touchdowns two of three games. He has become a top target in the red zone, giving him some weekly value for fantasy teams. It would be nice to see his yardage and catch totals increase, but the touchdowns sure help. And he might find the end zone again this week against the Giants. New York has done alright against the pass but have struggled with tight ends. The Giants allow the seventh most fantasy points to tight ends. It might be a good time to get Higbee in your lineup this week.
Latavius Murray, RB, Ravens. Murray played the most snaps at running back last week (49 percent) and was on the field even more the previous game, playing 62 percent of the snaps. At this point, Murray is the back to use in this offense. He is not a sure thing, having more than 50-rushing yards and double-digit fantasy points just one game, but the potential is certainly there in this offense. And he has a favorable matchup to do his most damage of the season this week anginas the Chargers. Los Angeles is seventh against the pass compared to 32nd against the run.
High/Low Scoring Games
Each week we will take a look at some of the high and low scoring games for the coming week. In high scoring affairs, get your marginal players on those teams in your lineup to take advantage of the possible points barrage. And in the low scoring games, keep those marginal players on the bench and make sure to have your defenses involved in those contests.
High Scoring Games: Bucs/Eagles, Chiefs/Washington, Vikings/Panthers, Chargers/Ravens, Cardinals/Browns, Bills/Titans.
Low Scoring Games: Raiders/Broncos.
Bye Weeks: Falcons, Saints, Jets, 49ers.
Jeff Paur is a two-time finalist for FSWA Fantasy Football Writer of the Year and won the FSWA award for Best Fantasy Football Article on the Web in 2011. He also was the most accurate expert in 2012, winning the FSTA Fantasy Football Accuracy Award. If you have any questions for Jeff, email him at [email protected] Follow Jeff on Twitter @jeffpaur.